Water Feature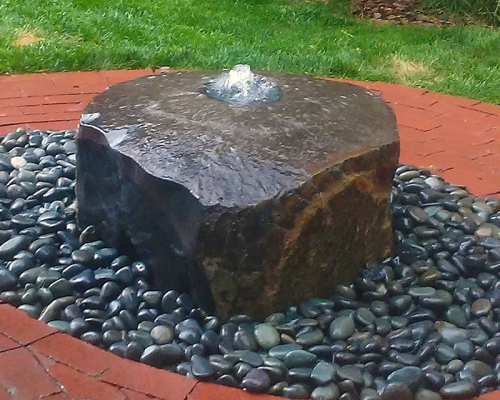 A well-designed water feature can elevate an ordinary landscape to extraordinary, creating a dynamic focal point that mesmerizes with its constant motion. At Lawn Masters, we specialize in incorporating water features into landscapes, transforming them into tranquil oases that offer a visual spectacle and a soothing auditory experience.
Captivating Water Features for Your Landscape
Water features, with their inherent fluidity and reflective properties, add a unique charm to your outdoor spaces. Whether it's a cascading waterfall, a serene pond, a playful fountain, or a babbling brook, the right water feature can significantly enhance your landscape's visual appeal while creating a calming ambiance.
At Lawn Masters, we work with you to design and install water features that blend seamlessly with your landscape's aesthetics. We consider various factors such as the style of your property, the existing flora and fauna, the available space, and of course, your personal preferences.
The Enchanting Effects of a Water Feature
Water features offer more than just aesthetic appeal. They can provide a soothing background noise, masking unwanted sounds from the environment, such as traffic or neighboring activities. They can also attract a variety of wildlife like birds and butterflies, creating a lively and vibrant outdoor space.
Moreover, water features have been known to have therapeutic effects. The calming sounds of water can be an excellent stress reliever, helping to create a peaceful sanctuary right in your backyard.
Quality Workmanship and Materials
At Lawn Masters, we believe in delivering top-notch quality. We use high-quality materials that can stand the test of time, ensuring that your water feature remains beautiful and functional year after year. Our team of experienced craftsmen brings meticulous attention to detail and unmatched skill to every project.
A Wide Range of Landscape & Hardscape Services
Besides water features, Lawn Masters offers an extensive list of landscape and hardscape services:
Our comprehensive offerings aim to enhance your outdoor living experience, providing you with a space that is not only visually stunning but also functional and enjoyable.
Dive into Serenity with Lawn Masters
Immerse yourself in the tranquil beauty that a water feature can bring to your landscape. With Lawn Masters, you can transform your outdoor space into a serene escape, complete with the soothing sounds and visuals of flowing water.
If you're ready to add a water feature to your landscape or explore our other services, please call us directly for the fastest service. Alternatively, you can request a free estimate online. With Lawn Masters, every drop counts. Let us help you create an outdoor space that resonates with the serene beauty of nature and offers you a daily dose of tranquility.
---
Find the information you need? Then fill out our Free Estimate form and one of our team members will contact you to discuss your lawn care and landscaping needs. Still have questions? Feel free to Contact Us. We are always happy to answer any concerns you may have. For Fastest Service, give Lawn Masters a call at 636-230-0700.