Outdoor Kitchen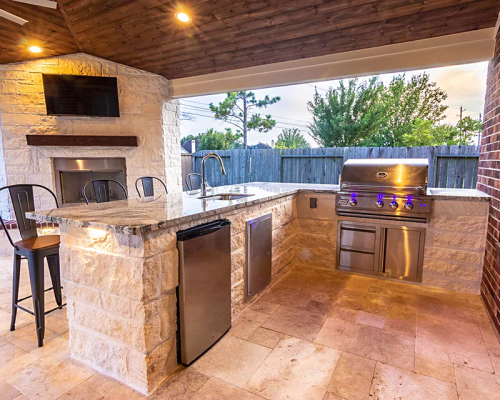 Picture this: a summer afternoon, the tantalizing smell of barbecue wafting through the air, the sizzle of a grill, and the laughter of family and friends filling your backyard. At the heart of it all is your fully equipped outdoor kitchen, a perfect blend of form and function, turning every outdoor gathering into a memorable experience. Lawn Masters specializes in creating such exceptional outdoor kitchens, designed with impeccable craftsmanship and tailored to suit your unique lifestyle.
Your Dream Outdoor Kitchen Begins Here
At Lawn Masters, we understand that an outdoor kitchen is more than just a place to prepare food. It's an integral part of your outdoor living space, a place where culinary magic happens and memories are created. That's why we pay close attention to every detail of the design and installation process, ensuring your outdoor kitchen is not only efficient but also aesthetically pleasing.
Our skilled team collaborates with you to bring your dream outdoor kitchen to life. From the selection of high-quality materials to the layout that maximizes your space, we are committed to creating an outdoor kitchen that reflects your personal style and meets your needs. Whether you envision a compact kitchen for intimate family meals or a spacious one for grand outdoor parties, we have the expertise to make it happen.
Enhance Your Culinary Experiences
An outdoor kitchen offers a wealth of benefits. It extends your living space, giving you more room to cook, dine, and entertain. It provides a unique ambiance for culinary adventures, allowing you to enjoy the beauty of the outdoors while preparing meals. Plus, an outdoor kitchen can significantly increase the value of your home, making it a worthwhile investment.
Comprehensive Landscape & Hardscape Services
In addition to crafting exquisite outdoor kitchens, Lawn Masters offers a wide array of other landscape and hardscape services:
Our team is dedicated to helping you create a complete outdoor living area that you can enjoy all year round.
Create an Outdoor Culinary Oasis with Lawn Masters
At Lawn Masters, our passion is turning backyards into beautiful and functional outdoor living spaces. With a custom outdoor kitchen, you can elevate your outdoor entertainment to a whole new level, making your home the go-to spot for family and friends.
If you're ready to step outside the box and transform your backyard with an outdoor kitchen, or if you're interested in any of our other landscape and hardscape services, we're here to assist you. For the fastest response, please call us directly, or you can request a free estimate online. Let Lawn Masters help you turn your outdoor space into your own personal culinary oasis.
---
Find the information you need? Then fill out our Free Estimate form and one of our team members will contact you to discuss your lawn care and landscaping needs. Still have questions? Feel free to Contact Us. We are always happy to answer any concerns you may have. For Fastest Service, give Lawn Masters a call at 636-230-0700.