Stone Column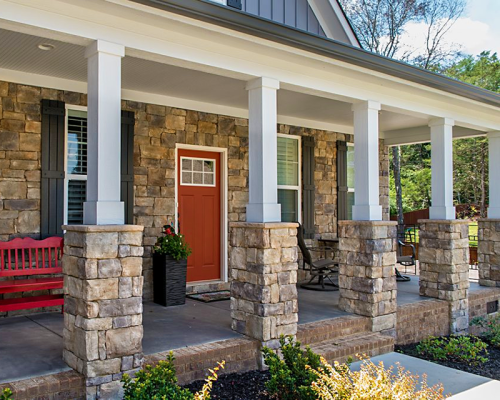 Structural accents play a significant role in defining the visual appeal and character of your outdoor space. Stone columns, with their timeless elegance and versatility, can serve as a focal point or a complementary element to other features in your landscape. At Lawn Masters, we provide meticulously crafted stone column installations that enhance the aesthetic value and functionality of your outdoor areas.
Elevate Your Landscape with Stone Columns
The elegance of stone is indisputable, and when fashioned into columns, it creates a striking visual element that can transform your landscape. Stone columns can frame entryways, line pathways, support structures, or stand alone as architectural elements. At Lawn Masters, we work closely with you to incorporate stone columns into your landscape in a way that matches your style and meets your needs.
Our experienced craftsmen source the finest stones and employ expert techniques to ensure each column we install is of the highest quality. We take into consideration the scale, design theme, and color palette of your landscape to deliver stone columns that seamlessly blend with your outdoor space.
The Lasting Impact of Stone Columns
Stone columns not only add beauty and character to your landscape but also provide lasting value. Stone, being a resilient and durable material, can withstand harsh weather conditions and requires minimal maintenance. Over time, it ages gracefully, enhancing the charm of your outdoor space.
Moreover, the addition of stone columns can significantly increase your property's curb appeal and value. They lend an air of sophistication and grandeur that leaves a lasting impression on visitors.
Comprehensive Landscape & Hardscape Services
At Lawn Masters, we offer a broad range of landscape and hardscape services, including:
Our goal is to create outdoor spaces that exceed your expectations and reflect your personal style.
Create Your Masterpiece with Lawn Masters
At Lawn Masters, we believe that your landscape is a canvas for your vision, and our team is dedicated to helping you create your masterpiece. If you're ready to elevate your outdoor space with stone columns or explore our other landscape and hardscape services, we're here to help.
Please call us directly for the fastest service, or you can request a free estimate online. With Lawn Masters, you can transform your property into a beautiful work of art that you can enjoy for years to come. Let us guide you on your journey towards an exquisite and personalized outdoor living experience.
---
Find the information you need? Then fill out our Free Estimate form and one of our team members will contact you to discuss your lawn care and landscaping needs. Still have questions? Feel free to Contact Us. We are always happy to answer any concerns you may have. For Fastest Service, give Lawn Masters a call at 636-230-0700.