Landscaping in Wildwood MO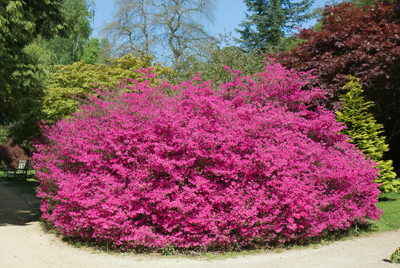 The thrifty homeowners of our times make extended plans and strategies on how to tackle the lawn and landscaping tasks for the upcoming year. Luckily, residents in Wildwood MO do not have to worry about such things. Our experts in landscaping in Wildwood MO are always ready to offer their comprehensive strategies and services to anyone who asks! Are you one such thoughtful homeowner who want the best for the property? It is time for us to meet!
Experts in Landscaping in Wildwood MO Talk about Our Company
Lawn Masters began its career in 1983. As a family-owned business, we have as main goal the provision of state-of-the-art lawn care and landscaping services to all its clients. We have never made compromises on the quality of work we have offered. This professional ethic made us very popular in our community, drawing increasingly high numbers of clients over the years. Today, we are proud to say that we are able to meet all our customers' needs and exceed their expectations.
Our Landscape Services Include
Retaining Walls to contain sections of your lawn, for both support against erosion, as well as aesthetics, creating encapsulated flower beds and plant areas.
Paver Patios to expand your outdoor living space and create a safe area for your backyard activities, like grilling, and relaxing.
Landscape Grading to sculpt or level your land and prepare outdoor living spaces for elements like plants, hardscaping, paths & walkways, patios, stairs, and more!
Sod Installation to quickly deliver a lawn of grass that is already healthy and growing, instead of planting seeds and waiting. Also useful for repairing damaged, dead, or dying sections of your lawn.
Hardscape Design and Installation services that offer a wealth of options, including Fire Pits, Outdoor Kitchens, Brick Pizza Ovens and more!
Landscape Lighting to illuminate your home at night, making it safer, and more inviting to friends and family who come to visit.
And so much more!
We offer many popular landscape design and installation options that give your home true character and help it stand out from the rest of the houses in your neighborhood. Personalize your home to look just how you always wanted. Don't settle for the cookie cutter design that the home builders chose to be the same for all of the houses on your block.
What Can we do for You?
Regarding our full range of services in landscaping in Wildwood MO, we combine two complementary approaches that cover all homeowners' needs:
1. Landscape Design and Building
Our community grows year after year and many families come to settle in these parts. Naturally, they want the best services in landscaping in Wildwood MO, especially when the outdoor part of their new home need revamping.
We work with certified landscape architects and horticulturists to offer these clients a wide and complete palette of services:
Landscape design creation;
Installation of plants and annual colors;
Installation of drainage systems;
The building of patios, retaining walls, walkways, and more.
When our specialists in landscaping in Wildwood MO finish the job, you will have your own corner of paradise to cherish.
2. Landscape Maintenance
The second approach to landscaping it's year-round management. While some homeowners enjoy mowing their lawns and trimming their hedges, some landscaping tasks need professional interventions. Here is what we can do for you:
Regular yearly tree/shrub trimming, pruning, and care: this 7-steps program deals with everything you need to preserve, your trees, shrubs, and hedges in perfect shape and beauty;
Regular bed weed control: another 7-steps program covering the entire year and aiming to maintain your landscape beds in full health;
Mulching;
Integrated complementary services: lawn mowing, fertilization, and weed control, and more – so your outdoor environment benefits from the best of care.
Top Reasons to Hire Us
Should you desire to hire our experts in landscaping in Wildwood MO, you should know the following:
We carry insurances to protect your property, our work, and our teams;
We offer a streamlined, smooth working process that spares you of wasted time, money, and effort;
We use the latest of equipment, technologies, and software to comply with our commitment to your satisfaction, respect eco-friendliness principles, and allow company growth;
We also carry licenses from the Missouri Department of Agriculture for our applications;
We are a continual service company.
We may have convinced you we are the best money can buy, but it is better for you to see with your own eyes. Give us a call, ask for a free estimate, and talk to our representatives! Our specialists in landscaping in Wildwood MO are always happy to meet and exceed a new client's expectations!