Landscaping in Ballwin MO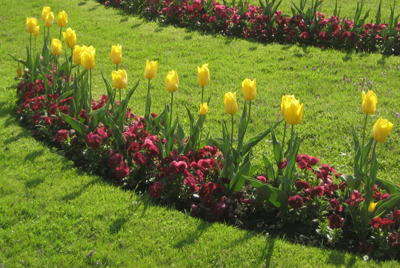 While seasoned homeowners want a company to deal with all their landscape maintenance needs, new ones want the best in terms of landscape architecture and build. Wouldn't it be great to have a company able to cover both such needs? Lawn Masters has decades of experience in offering above-standard services in landscaping in Ballwin MO for all types of clients. We are here today to offer you details on who we are and what we can do for your property!
Landscaping in Ballwin MO for New and Improved Properties
If you just bought a property and you want to build it from scratch or revamp it, we are here to offer you complete services of landscaping in Ballwin MO, including design and installation.
We work with a team of landscape architects and horticulturists to create the best landscape design that fits with your property's size and features;
When we all agree on the project, our team of highly trained technicians proceeds to build your dream outdoor environment;
Among our most popular services are plant installation, annual color, drainage systems, the building of patios, walls, and walkways.
You can always ask us for a free estimate in case you require such services. Our experts in landscaping in Ballwin MO also offer their experience and know-how to owners who want a full landscape remodeling to increase their home's curb appeal.
Our Landscape Services Include
Retaining Walls to contain sections of your lawn, for both support against erosion, as well as aesthetics, creating encapsulated flower beds and plant areas.
Paver Patios to expand your outdoor living space and create a safe area for your backyard activities, like grilling, and relaxing.
Landscape Grading to sculpt or level your land and prepare outdoor living spaces for elements like plants, hardscaping, paths & walkways, patios, stairs, and more!
Sod Installation to quickly deliver a lawn of grass that is already healthy and growing, instead of planting seeds and waiting. Also useful for repairing damaged, dead, or dying sections of your lawn.
Hardscape Design and Installation services that offer a wealth of options, including Fire Pits, Outdoor Kitchens, Brick Pizza Ovens and more!
Landscape Lighting to illuminate your home at night, making it safer, and more inviting to friends and family who come to visit.
And so much more!
We offer many popular landscape design and installation options that give your home true character and help it stand out from the rest of the houses in your neighborhood. Personalize your home to look just how you always wanted. Don't settle for the cookie cutter design that the home builders chose to be the same for all of the houses on your block.
Landscaping in Ballwin MO for Established Properties
A lush lawn, a colorful and scented garden, and a welcoming backyard all require constant work, knowledge, experience, and innovation. People who do not have the time or the skills to implement complex maintenance activities on their properties contract us to care for their landscapes all year long. If your property is already thriving, but it needs its regular maintenance, here are the things our specialists in landscaping in Ballwin MO can do for you:
We can implement a year-long, 7-steps program of tree and shrub care;
We can add to this program an integrated service consisting in the regular trimming and pruning of your trees, shrubs, and hedges;
We offer a full 7-steps year-round bed weed control program to ensure the health, safety, and aesthetics of your landscape beds;
Moreover, we employ a full fertilization and weed control program aimed to control all weeds in their pre-emergent, emergent, and post-emergent status season after season;
We also offer mulch services that go hand in hand with the other tasks we can implement to ensure the healthy thriving of your landscape.
As we can see, we are a company specialized in landscaping in Ballwin MO that strives for integration and consolidation of services. Why pay different companies different bills when you can rely on us year after the next to build and maintain your gorgeous property?
Before you call us to ask for a free estimate, you should also know we have an environmental-friendly approach to fertilization and landscape maintenance. We also carry insurances to protect you and our workers as well.
Give us a run for our money at any time! We are here 24/7 to answer your call and work with you in the long run!