Lawn Treatments in Ballwin MO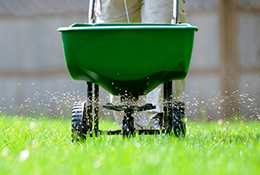 Lawn Masters has been in the lawn care and landscaping business for more than 35 years. Our customers return to us year after year because we offer extended and comprehensive landscape management services in an efficient, streamlined, and no-nonsense manner. The rock star of our services is probably our program of lawn treatments in Ballwin MO (and the surrounding areas). We worked hard to develop its 7 stages, but our hard work pays off when we see our customers' dense and sparkling green landscapes thriving each year. If you want the best in what the industry has to offer, you have come to the right place!
Why Should You Opt for Our Program of Weed Control and Lawn Fertilizer Service?
As a family-owned lawn fertilizer company which has grown and worked in the area, we know how important efficiency and care are for our customers. Our 7-step annual program of lawn fertilizer and lawn weed control services relies on ability, science, and dedication. Let us explain!
The yearly program begins in early spring and ends in late fall;
It takes into account all the needs of the soil and the vegetation present on your property;
We do much more than preventing the emergence of weeds or exterminating them once they appear; we nourish the ground regularly, we feed the plant roots to resist heat, diseases, and natural phenomena or pests, and we prepare the soil and plants for winter dormancy;
Our program of lawn treatments in Ballwin MO also includes an integrated pest management program and is a part of our annual landscape management plan we offer our clients upon request;
All our applicators carry licenses from the Missouri Department of Agriculture;
The program is under the supervision of expert horticulturists;
We use granular fertilizers you will not find in supermarkets – we blend and mix concentrations and quantities, so they fit perfectly within the plan and meet the seasonal needs of your soil and vegetation.
Are We the Right Landscaping Company for Your Property?
If you listen to our customers, we work hard, well, and efficient. Of course, you can always test us and see for yourself. Here are some compelling reasons our clients choose our lawn weed control services over the competition:
We are a family-owned and locally operated company that grew to serve a large area in an efficient, streamlined manner;
All our experts and technicians in fertilization and weed control in Ballwin MO have certificates and practice licenses; we only work with trained professionals in their fields, no matter if you require a horticulturist or a landscape architect;
Our insurance policies cover the safety of your property and our workers;
We offer continual services year after year; this way, you do not have to remind us next spring to come over for Crabgrass Pre Emergent Weed Control, as you are on our route already;
If you are not 100% excited with our work but are willing to refer us to your acquaintances, we will come back and redo the work for free!
We offer Grub, Mosquito, Flea, and Tick Yard Treatments.
Pick up the phone, call today and ask for a free estimate! Our experts in fertilization and weed control in Ballwin MO will answer all your questions!