Landscaping in Cottleville MO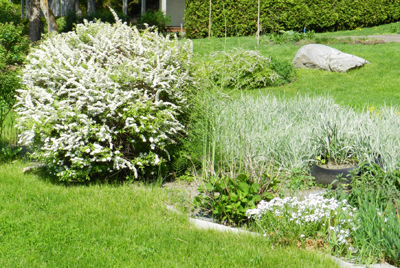 They say the responsible homeowner shops for plant seeds in winter and for de-icing material in summer. If you dealt with the seed part already, this winter is time to shop for the best lawn care and landscaping service in Cottleville MO! Today, we are here to present you with our company and our trademark landscaping programs that make all our customers happy to return to us year after year!
Lawn Masters: The Best Provider of Landscaping in Cottleville MO
Here at Lawn Masters, we have a golden rule: offer the highest quality of work to meet our clients' needs and exceed their expectations. We hope we achieved such goals in the 35+ years of continuous activity in this business – and by the number of satisfied customers, we think we managed to keep our word.
New clients, on the other hand, need to know a few things about us to be confident they make an educated choice if they hire us in the future:
We are a family-owned company, which started in 1983 and which continues to grow;
Since the beginning, we always aimed for superlative service provision; we always adapted to our times and used the latest and most performing equipment, technologies, and software;
We only work with qualified professionals (landscape architecture, horticulture, agriculture, etc.) and we invest in the continuous education and expertise of our workers;
Being a company that offers continual services of lawn care and landscaping in Cottleville MO, we use hi-tech means to respect our schedules, coordinate our crews, and track our fleet; clients do not have to call us next spring for the regular weed application, because we already know we will go there when time comes;
We are in full compliance with state laws regarding agricultural treatments and use certified applicators when it comes to fertilization and weed control;
If you choose to work with us, you should know your property is in good hands – we operate with insurances and warranties covering every aspect and element of the job;
Our pricing plans are affordable and our range of services is broad, so feel free to talk to one of our consultants about your landscaping needs and the solutions we suggest.
Our Landscape Services Include
Retaining Walls to contain sections of your lawn, for both support against erosion, as well as aesthetics, creating encapsulated flower beds and plant areas.
Paver Patios to expand your outdoor living space and create a safe area for your backyard activities, like grilling, and relaxing.
Landscape Grading to sculpt or level your land and prepare outdoor living spaces for elements like plants, hardscaping, paths & walkways, patios, stairs, and more!
Sod Installation to quickly deliver a lawn of grass that is already healthy and growing, instead of planting seeds and waiting. Also useful for repairing damaged, dead, or dying sections of your lawn.
Hardscape Design and Installation services that offer a wealth of options, including Fire Pits, Outdoor Kitchens, Brick Pizza Ovens and more!
Landscape Lighting to illuminate your home at night, making it safer, and more inviting to friends and family who come to visit.
And so much more!
We offer many popular landscape design and installation options that give your home true character and help it stand out from the rest of the houses in your neighborhood. Personalize your home to look just how you always wanted. Don't settle for the cookie cutter design that the home builders chose to be the same for all of the houses on your block.
What Types of Landscaping in Cottleville MO Can We Offer?
When it comes to landscaping, the sky is the limit. In other words, you can ask for a fresh landscape design to build your outdoor property from scratch; you can ask for a revamping/remodeling project on a landscape that needs intervention; you can ask for an enhancement project if you want to boost your property's curb appeal for reselling. Last but not least, you can always contact us for year-round landscape maintenance covering everything from the thinnest blade of turf to the highest of trees.
To summarize, here are our main services of landscaping in Cottleville MO:
Landscape design, installation, and building (from plant installation to the creation of patios and walkways);
Shrub and tree care, pruning, and trimming;
Bed weed control;
Call us today to get more details on our property management sub-programs, the 7-steps annual treatments, and other integrated services that we offer. Our experts in landscaping in Cottleville MO are happy to give you a free estimate and answer all your questions!