Lawn Treatments in Wildwood MO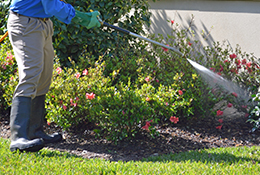 A house with a weak foundation will eventually crumble and fall. A landscape built on poorly nourished soil will eventually succumb at the feet of its attackers: weeds, pests, and diseases. Our certified program of lawn treatments in Wildwood MO and its surrounding areas sees that your lawn and landscape thrive dense, durable, and healthy all year long without you having to spend your time, effort, and money for it. Here are the crucial things you need to know about our services and us!
Certified 7-Step Program of Weed Control and Lawn Fertilizer Service: The Basics
Here at Lawn Masters, we treat your lawn and landscape just as we treat our own homes: with respect and understanding. The reliability, beauty, and health of your property rely on its "foundation" – meaning the soil and the plants' roots. Here are the basics of the 7-step program of lawn treatments in Wildwood MO that we have developed over the years and offer to all our clients!
The program spans from early spring to late fall, covering all seasons and ensuring your lawn and landscape the health, nourishment, and protection it needs;
We use high-end granular fertilizers with different types of concentrations and release times, according to the season and the current vegetation needs;
Our 7-step strategy for lawn treatments in Wildwood MO does not only cover weed extermination, but also deals with root fertilization, soil nutrients replenishment, summer heat stress recovery for plants, root strengthening, and soil preparations for winter dormancy;
We work with highly trained horticulturists to provide our clients with the best practices in the field and ensure their lawns and gardens benefit from eco-friendly and safe treatments;
Our applicators carry licenses from the state Agricultural Department;
This program of lawn weed control services is a continual service; in other words, you do not have to remind us next spring to come over and resume the work because we already know, and we already scheduled your property on our route.
What Else Should You Learn About Us?
If you are shopping around for reliable landscaping companies in your area, you probably heard about us by now. Our faithful pool of customers recommends us to their friends and neighbors with any given a chance. Why are they so happy with our services?
Because we carry insurance policies for all the jobs we perform on one's property, thus covering the clients and our workers;
We only work with skilled and trained technicians and experts in landscape architecture, horticulture, agriculture, and more;
We do our jobs in a fast, efficient, smooth, and clean manner; since our beginning in 1983, we always invested in the latest and most performing technologies, equipment, logistics and billing software, and more.
If someone is not happy with the job we did, but still wants to recommend us, we come back and redo the job free of charge.
We offer Grub, Mosquito, Flea, and Tick Yard Treatments to all our clients, as well as Crabgrass Control & Crabgrass Pre Emergent Treatments.
If you want to learn more about our program of lawn treatments in Wildwood MO, contact us, request a free estimate, and have our experts answer all your questions!