Irrigation & Sprinkler Repair in Chesterfield, MO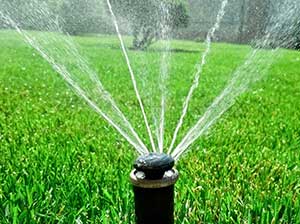 In Chesterfield, MO, homeowners know that lawn and landscape irrigation is vital for their properties' looks, health, and curb appeal. However, fully functional and smart irrigation systems have become the norm in this global effort to conserve water. Unfortunately, using the hose to water the garden means a lack of control of the water resources wasted time, money, and effort. For this reason, many homeowners in the area contract our irrigation repair and maintenance services in Chesterfield, MO. They know our experts can fix and upgrade all irrigation and sprinkler systems to meet a landscape's watering needs all year long.
The Best Company for Sprinkler Repair Services in Chesterfield MO: What We Can Do for Your Property
We are a one-stop landscaping service company specializing in design to maintenance. Our Irrigation & Sprinkler Repair services are tailored to preserve your yard's natural beauty and resilience when it comes to landscape irrigation. Here is what our experts in Chesterfield, MO, can do for you:
Check the irrigation installation system on your property to ensure it works at its maximum efficiency.
Provide you with full irrigation systems' service;
Perform system shutdowns/startups depending on the season and your individual needs;
The proper winterization of your landscape system is also a service we provide;
Maintenance and troubleshooting of backflow leaks;
Sprinkler replacements and maintenance to ensure that your yard and garden receive the proper water application, coverage, rate, and duration;
Fix wiring issues.
If you need to manage the watering on your property properly, you can safely count on our Irrigation & Sprinkler Repair services in Chesterfield, MO. We offer the best irrigation repair services in your area at affordable prices, backed up by integrated services and excellent customer support.
Why Should You Choose our Company?
Our Irrigation & Sprinkler Repair services in Chesterfield, MO, are examples of good practices for careful lawn and landscape irrigation. But you have other reasons to choose our company.
A free quote;
Affordable pricing plans and easy-to-understand fees;
Certified and licensed technicians;
Unparalleled customer service;
Efficient tech solutions and tools for sprinklers' repairs and maintenance;
Integrated landscaping services (vegetal and hardscapes) from design and installation to long-term maintenance;
Open communication with clients, reliable schedules, and engaged staff.
Contact us today for a free estimate! Enjoy risk-free landscape Irrigation & Sprinkler Repair in Chesterfield, MO, with risk-free satisfaction guarantees. Our experts will ensure your irrigation system works perfectly all year long.