Lawn Treatments in St Peters MO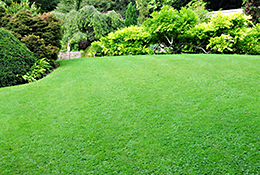 In a world where we rely on science every single day, times have to change for the landscaping industry as well. Proud of their smart gadgets and connected homes, modern homeowners are also proud of working with companies that take the same intelligent, science-based approach in their lawn and landscaping activities. Lawn Masters is such a lawn fertilizer company, and today our experts in lawn treatments in St Peters MO want to give you a heads up regarding this particular service!
How Can a Program of Weed Control and Lawn Fertilizer Service Rely on Science?
Our company has been active in the industry for 35 years and counting. We witnessed and embraced the significant changes and perspective shifts that technology and new sciences have brought over the years. Fields such as horticulture, agriculture, and environmentalism also grew. From our considerable knowledge and experience, we have managed to create our science-based, 7-step program of lawn treatments in St Peters MO (and all the other areas we cover). Here are its main principles:
Prevention – we begin in early spring with granular fertilizer to boost spring green-up and overcome the spring dormancy of your vegetation;
Control – in late spring, we prep the lawn for summer, encouraging color and fending off seasonal weeds;
Protect – in early summer we use granular fertilizers to prevent broadleaf and promote plant hardiness;
Maintain – in mid-summer, we fertilize your lawn and garden to increase heat resilience and remove seasonal weeds;
Sustain – we continue the program of fertilization and weed control in St Peters MO in late summer with treatments aimed to replenish the soil's nutrients;
Build – in early fall we use fertilizers to promote new growth and enhance root strength;
Prepare – the last step takes place in late fall when we nourish the roots and prep them for winter dormancy.
As you can see, our experts in lawn weed control services are ready to prevent, treat, and prepare your lawn and landscape year-round. We also use our integrated pest management program together with the fertilization one to ensure the health and thriving of your landscape.
We only use granular fertilizers – in the correct amounts and concentrations at the right times. They ensure a safe, eco-friendly approach to lawn care and landscaping.
What Other Reasons Do You Have to Hire Us?
In the vein of science-based landscaping or lawn treatments in St Peters MO and its surrounding, we also work only with certified horticulturists and landscape architects. Our lawn fertilizer company applicators feature licenses issued through the Missouri Department of Agriculture.
Moreover, we carry extensive insurance to make sure your property and our workers are always safe;
In 35 years, we have never compromised the quality of our work;
We always invest in and use the latest equipment and technologies, software, and vehicles to offer our clients outstanding services.
We offer Grub, Mosquito, Flea, and Tick Yard Treatments to all our clients, as well as Crabgrass Control & Crabgrass Pre Emergent Treatments.
You can always call us – because we always answer – to ask for a free estimate or talk to one of the experts in fertilization and weed control in St Peters MO about your requirements!