Irrigation & Sprinkler Repair in Creve Coeur, MO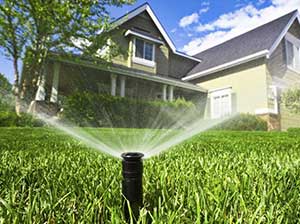 Well-maintained watering systems are essential when you want to make the most out of your sprinklers. Moreover, a professional irrigation system prevents dry spots and burnt patches of turf across lawns, helps you reduce water waste, and conserves resources. Finally, an irrigation system gives you more free time and less stress with the watering and keeps your vegetation thriving all year long. So if these benefits appeal to you, let's see how our Irrigation & Sprinkler Repair in Creve Coeur, MO, could help you this year!
The Best Company for Irrigation & Sprinkler Repair in Creve Coeur MO: What We Can Do for Your Property
As homeowners ourselves, we understand that you would do anything for your lawn and garden. Proper irrigation is vital no matter the season, especially in spring and fall, when you cannot rely solely on rainfall. Moreover, you only waste time, water, and money when using the hose for irrigation. In other words, if you have an irrigation system on your property but you want it to work at its full potential, you should get our Irrigation & Sprinkler Repair in Creve Coeur, MO. This is what you should know:
We will check your irrigation system to see if it shows signs of wear, tear, or malfunctions. Then, depending on its needs, we can make a repair and maintenance plan.
Our experts can provide you with irrigation system shutdowns/startups depending on your garden's needs.
We will check for the system to provide your landscape with optimal water application, coverage, rate, and duration at each maintenance visit.
You can also count on us for full winterization services as well;
You can call us any time to fix the system's problems: backflow leaks, wiring issues, sprinkler heads' replacements, troubleshooting, etc.
Our team will help you manage all the watering issues on your property no matter the season, types of plants you grow, your schedule, and so on.
Why Should You Choose our Company?
We are a full-service landscape contractor offering integrated lawn and landscaping services, from design to maintenance and installations, including vegetal landscaping and hardscaping. If you choose our Irrigation & Sprinkler Repair in Creve Coeur, MO, here is what we provide to our residential and commercial clients:
Free estimates;
Transparent and affordable fees;
Certified and licensed technicians;
Excellent customer service;
Full sprinkler repair and maintenance services.
Our experts will ensure your irrigation system works perfectly all year long, so don't hesitate to contact us and get the best Irrigation & Sprinkler Repair in Creve Coeur, MO!