Landscaping in Creve Coeur MO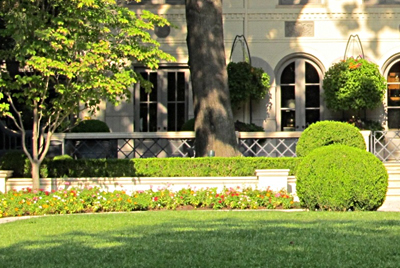 Creve Coeur is a wonderful place to work in, settle down, and build a life. If you want the best services of landscaping in Creve Coeur MO to enjoy your outdoor environment, you should talk to our specialists. Here at Lawn Masters, we aim to meet all our clients' needs and exceed their expectations in terms of efficiency, high-quality results, and professional ethics. Today, our experts in landscaping in Creve Coeur MO are here to present you with our services and offers.
What Can You Expect from Our Services of Landscaping in Creve Coeur MO?
We provide a wide range of services of lawn care and landscaping in Creve Coeur MO to different types of clients. Here is what we can provide for you:
1. Landscape Design and Build for New Properties
If you build a home in our community or you bought one and need a full landscape makeover, our experts in landscaping in Creve Coeur MO are here to offer you their support:
Landscape design with the help of our certified architects;
Plant installations and annual color;
The building of retaining walls, patios, walkways;
Drainage systems.
2. Landscape Management for Established Properties
Many of our clients opt for our continual services in landscaping in Creve Coeur MO. Once we made the annual intervention plan, here are the jobs we can do for you:
Preserve the beauty and health of your vegetation with our 7-steps program dedicated to trees, bushes, shrubs, and hedges. We cover everything from disease and pest control to trimming and pruning, growth control, deep root fertilization, and more;
Enhance the health and beauty of your landscape beds with our bed weed control program – a different 7-step approach ensuring your landscape receives the support and sustainability it deserves;
Mulching – as part of our eco-friendly approach to landscaping in Creve Coeur MO.
3. Other Complementary Services
We strive to offer our clients a full range of dedicated and consolidated services, so they can sit back, relax, and enjoy their gorgeous lawns and yards with no effort or concerns. Among our complementary services, you can also opt for lawn mowing, fertilization and weed control, etc.
Our Landscape Services Include
Retaining Walls to contain sections of your lawn, for both support against erosion, as well as aesthetics, creating encapsulated flower beds and plant areas.
Paver Patios to expand your outdoor living space and create a safe area for your backyard activities, like grilling, and relaxing.
Landscape Grading to sculpt or level your land and prepare outdoor living spaces for elements like plants, hardscaping, paths & walkways, patios, stairs, and more!
Sod Installation to quickly deliver a lawn of grass that is already healthy and growing, instead of planting seeds and waiting. Also useful for repairing damaged, dead, or dying sections of your lawn.
Hardscape Design and Installation services that offer a wealth of options, including Fire Pits, Outdoor Kitchens, Brick Pizza Ovens and more!
Landscape Lighting to illuminate your home at night, making it safer, and more inviting to friends and family who come to visit.
And so much more!
We offer many popular landscape design and installation options that give your home true character and help it stand out from the rest of the houses in your neighborhood. Personalize your home to look just how you always wanted. Don't settle for the cookie cutter design that the home builders chose to be the same for all of the houses on your block.
Why Should Anybody Hire Us?
It is a question all service providers, no matter the industry, must answer openly. Here are the reasons why our clients have chosen us over the competition:
We work with insurance policies protecting properties and people;
We have never traded the quality of our work for anything;
We use hi-tech equipment, the latest software, and the best science-based practices in lawn care and landscaping in Creve Coeur MO since our debut in 1983;
We are family-owned and locally operated and we put people above anything (clients and team members); we invest in our technicians' expertise and we built a reliable customer service department;
We offer a streamlined, efficient work process – from the moment you call us to the point of coming back to your property for regular interventions next year without you having to remind us.
Should you consider us worthy of your trust, contact us for a free estimate! Our experts in landscaping in Creve Coeur MO are here to meet your needs and exceed your expectations!