Landscape Renovation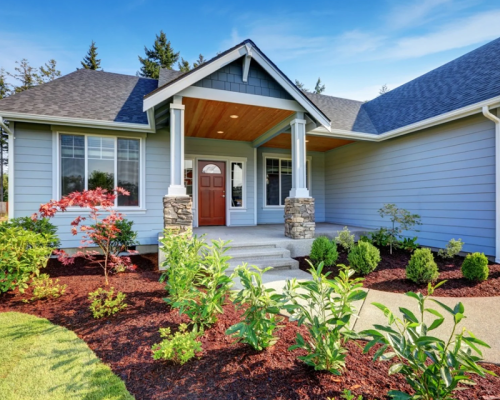 Revitalizing your outdoor space can breathe new life into your property. Whether your landscape needs a complete overhaul or a few targeted improvements, a landscape renovation can transform your yard into a stunning oasis that reflects your style and meets your functional needs. At Lawn Masters, we offer comprehensive landscape renovation services, blending creativity, craftsmanship, and your vision to create a landscape that complements your lifestyle.
Breathe New Life into Your Landscape with a Renovation
A well-designed landscape not only boosts curb appeal and property value but also enhances your quality of life. However, like any part of your property, your landscape can benefit from a revamp over time. Perhaps your landscape no longer fits your lifestyle, or it may have become overgrown and unruly. Whatever the reason, a landscape renovation can address these issues, creating an outdoor space that's both aesthetically pleasing and functional.
At Lawn Masters, we consider your preferences, the existing features of your property, and the potential of your outdoor space to create a renovation plan. We consider every aspect – from plant selection and placement, to the design of hardscape features like patios, walkways, and water features. Our team takes a hands-on approach to ensure every detail aligns with your vision and our high standards of craftsmanship.
The Benefits of a Landscape Renovation
Investing in a landscape renovation brings several benefits. Primarily, it improves the aesthetic appeal of your property, creating an outdoor space you can be proud of. It can also increase your property's value and make it more appealing to potential buyers if you ever decide to sell.
Moreover, a landscape renovation can improve the usability of your outdoor space. Whether you want a tranquil garden for relaxation, an outdoor kitchen for entertaining, or a playground for the kids, a renovated landscape can make your outdoor space more functional and enjoyable.
Comprehensive Landscape & Hardscape Services
At Lawn Masters, we pride ourselves on providing a wide array of landscape and hardscape services, including:
We tailor our services to meet your unique needs, ensuring we deliver results that exceed your expectations.
Transform Your Outdoor Space with Lawn Masters
At Lawn Masters, we believe that a well-designed landscape is an extension of your home. We understand the transformative power of a beautifully renovated landscape, and our team is committed to bringing your vision to life.
If you're ready to reinvent your outdoor space with a landscape renovation or explore any of our other landscape and hardscape services, we're here to help. Please call us directly for the fastest service, or you can request a free estimate online. Let us guide your landscape renovation journey, and transform your property into a stunning outdoor sanctuary with Lawn Masters. Together, we can create a landscape that resonates with your style and enhances your outdoor living experience.
---
Find the information you need? Then fill out our Free Estimate form and one of our team members will contact you to discuss your lawn care and landscaping needs. Still have questions? Feel free to Contact Us. We are always happy to answer any concerns you may have. For Fastest Service, give Lawn Masters a call at 636-230-0700.