Outdoor Fire Pit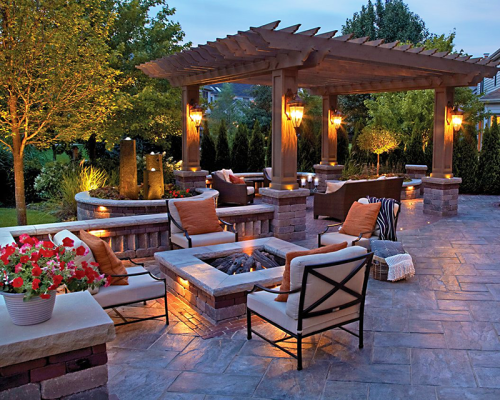 The captivating glow of an outdoor fire pit can transform any backyard into an enchanting oasis. With Lawn Masters, you have the opportunity to enhance your outdoor living experience with a beautifully crafted fire pit. Whether it's family gatherings, friendly cookouts, or quiet nights under the stars, a fire pit creates a cozy atmosphere that extends your home into the great outdoors.
Craftsmanship and Quality: The Cornerstones of Our Outdoor Fire Pits
At Lawn Masters, we understand that an outdoor fire pit should be more than just functional; it should be a beautiful addition to your backyard. That's why our team of skilled craftsmen work tirelessly to create fire pits that are not only reliable and safe but also aesthetically pleasing.
From the initial design phase to the final installation, we prioritize your vision and unique taste. Whether you prefer the rustic charm of a stone fire pit, the sleek sophistication of a metal design, or the classic appeal of a brick fire pit, we use only the highest quality materials to ensure a stunning, long-lasting result.
Enjoy the Many Benefits of an Outdoor Fire Pit
Having your very own outdoor fire pit comes with many benefits. It provides a warmth and ambiance that can extend your outdoor activities into the cooler months. It offers a central gathering point for social events, enhancing the enjoyment of your outdoor space. Not to mention, a well-crafted fire pit can also add significant value to your property.
Comprehensive Landscape & Hardscape Services
Beyond our expertise in crafting beautiful outdoor fire pits, Lawn Masters also offers a wide variety of other landscape and hardscape services:
We pride ourselves on our ability to transform your outdoor space into an oasis of comfort and enjoyment.
Let's Ignite Your Outdoor Experience
An outdoor fire pit is more than a backyard feature; it's a statement, a lifestyle, a gathering point for making memories. At Lawn Masters, we're passionate about turning your vision into a reality and enriching your outdoor living experience.
If you're ready to transform your backyard with a stunning outdoor fire pit or if you're interested in our other landscape and hardscape services, don't hesitate to reach out. For immediate service, call us directly, or you can request a free estimate online. With Lawn Masters, your dream backyard is within reach. Let us bring the magic of an outdoor fire pit to your home.
---
Find the information you need? Then fill out our Free Estimate form and one of our team members will contact you to discuss your lawn care and landscaping needs. Still have questions? Feel free to Contact Us. We are always happy to answer any concerns you may have. For Fastest Service, give Lawn Masters a call at 636-230-0700.