Flagstone Path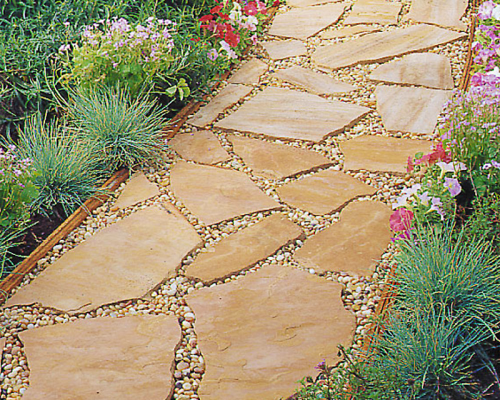 At Lawn Masters, we specialize in expert Flagstone Path installation services. Our team of skilled professionals has the experience and knowledge to create stunning Flagstone Paths that enhance the beauty and functionality of your outdoor spaces.
Expert Flagstone Path Installation
We understand that every property is unique, and we take pride in offering customized Flagstone Path designs to suit your specific needs. Our skilled designers work closely with you to create a Flagstone Path that perfectly complements your existing landscape and meets your individual style preferences.
Whether you desire a meandering path through your garden or a grand entrance to your backyard, our team can bring your vision to life. We carefully consider the layout of your outdoor space, the surrounding elements, and your personal preferences to design a Flagstone Path that not only serves its purpose but also adds aesthetic value to your property.
Customized Designs for Unique Outdoor Spaces
A beautiful Flagstone Path starts with high-quality materials. At Lawn Masters, we source premium flagstones known for their durability and natural beauty. We meticulously select each stone to ensure uniformity in color, shape, and size. Our commitment to using top-notch materials guarantees that your Flagstone Path will withstand the test of time, even in the harshest weather conditions.
Our experienced installation team employs best practices to ensure proper placement and stability of each flagstone. We pay attention to the finer details, such as proper leveling and joint spacing, to create a seamless and long-lasting Flagstone Path.
Transform Your Outdoor Space
A well-designed Flagstone Path can transform your outdoor space, adding both functionality and visual appeal. It provides a pathway for easy navigation, creates defined areas within your landscape, and serves as a focal point that draws attention. Whether you have a small garden or a sprawling backyard, a Flagstone Path can enhance the overall aesthetics and usability of your outdoor area.
Related Landscape & Hardscape Services
Enhance Your Outdoor Space Today
Ready to transform your outdoor space with a stunning Flagstone Path? Contact Lawn Masters today to discuss your project requirements and schedule a consultation. Our dedicated team is here to assist you every step of the way.
Request a free estimate or call us for the fastest service. Let Lawn Masters bring your vision to life with a custom-designed Flagstone Path that elevates the beauty and functionality of your outdoor area.
---
Find the information you need? Then fill out our Free Estimate form and one of our team members will contact you to discuss your lawn care and landscaping needs. Still have questions? Feel free to Contact Us. We are always happy to answer any concerns you may have. For Fastest Service, give Lawn Masters a call at 636-230-0700.