Fire Pit Seating Wall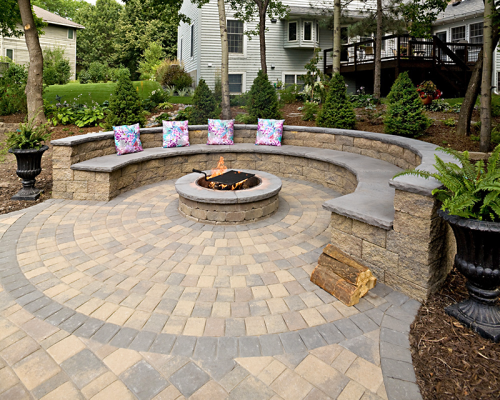 A well-designed outdoor space becomes an extension of your home, offering an inviting place to relax, entertain, and make memories. An outdoor fire pit and seating wall combination can be the perfect centerpiece of your outdoor living area, combining comfort and style in a single architectural feature. At Lawn Masters, we specialize in creating beautiful fire pit seating walls that blend seamlessly with your landscape, transforming your backyard into a personal sanctuary.
Curate a Cozy Outdoor Space with a Fire Pit Seating Wall
A fire pit seating wall brings together two essential elements of a cozy outdoor space: warmth and seating. Our team at Lawn Masters brings your vision to life, employing expert craftsmanship and high-quality materials. The seating wall's design is custom-tailored to complement the fire pit and the overall aesthetic of your outdoor living area.
The beauty of a fire pit seating wall lies in its ability to create a distinct, dedicated space within your outdoor area. It provides a focal point and gathering space where family and friends can come together, sharing stories and making memories by the warm glow of the fire pit. We ensure each design is functional, comfortable, and aesthetically pleasing, creating a setting where you can enjoy the outdoors year-round.
Enjoy the Benefits of a Fire Pit Seating Wall
A fire pit seating wall adds a significant amount of utility and aesthetic appeal to your outdoor space. It creates a defined area for socializing and relaxation while maintaining an open, welcoming atmosphere. The heat from the fire pit extends the usability of your outdoor space into the colder months, and the light it emits brings a warm, ambient glow to your backyard during nighttime gatherings.
Moreover, a fire pit seating wall enhances the value of your property. It is a long-lasting, durable feature that serves both practical and aesthetic purposes, making it a worthwhile investment for any homeowner.
Comprehensive Landscape & Hardscape Services
At Lawn Masters, we provide a full spectrum of landscape and hardscape services:
Whether you are looking to add new features to your landscape or upgrade your existing outdoor area, our skilled team is committed to delivering top-notch service and superior results.
Transform Your Backyard with Lawn Masters
At Lawn Masters, we believe in the transformative power of a well-designed outdoor space. A fire pit seating wall can turn your backyard into a cozy retreat, providing a place where you can relax, entertain, and enjoy the outdoors in comfort and style.
If you're ready to elevate your outdoor living experience with a fire pit seating wall, or if you're interested in any of our other landscape and hardscape services, we're here to help. Please call us directly for the fastest service, or you can request a free estimate online. Experience the warmth and comfort of a fire pit seating wall with Lawn Masters, and transform your backyard into your very own outdoor oasis.
---
Find the information you need? Then fill out our Free Estimate form and one of our team members will contact you to discuss your lawn care and landscaping needs. Still have questions? Feel free to Contact Us. We are always happy to answer any concerns you may have. For Fastest Service, give Lawn Masters a call at 636-230-0700.