Paver Path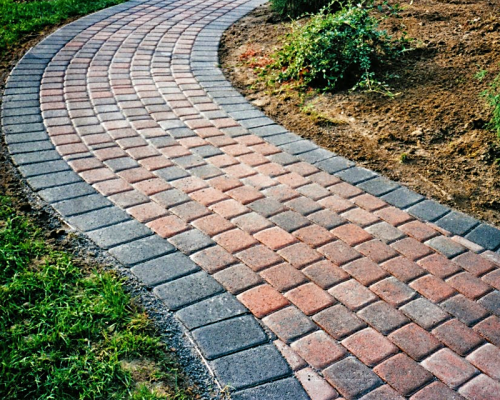 A walkway is more than just a practical feature—it's a pathway that guides visitors through the journey of your property. With a paver path, you can add function, beauty, and a touch of elegance to your landscape. At Lawn Masters, we specialize in designing and installing paver paths that not only guide the way but also enhance the visual appeal of your outdoor space.
Crafting a Beautiful Journey with a Paver Path
Installing a paver path involves more than simply laying stones. It requires careful planning, precision, and craftsmanship to create a walkway that not only serves its purpose but also contributes to the overall aesthetic of your property.
At Lawn Masters, we work closely with you to design a paver path that reflects your style and complements your landscape. Whether you prefer a simple, straight path or a winding walkway with intricate patterns, our team of experienced craftsmen has the skills and creativity to bring your vision to life.
We use high-quality pavers in a variety of shapes, sizes, and colors, allowing us to create unique and beautiful paths that stand the test of time. Each paver is meticulously placed to ensure stability and durability while adding a touch of elegance to your landscape.
The Impact of a Paver Path on Your Landscape
The addition of a paver path can significantly enhance your property's aesthetic appeal and functionality. It creates a defined path that guides visitors through your property, connecting different areas of your landscape and drawing attention to features you want to highlight.
Moreover, a paver path can improve the safety of your property by providing a stable, slip-resistant surface for walking. It can also help to protect your lawn from foot traffic, reducing the risk of damage to your grass and plants.
Offering Comprehensive Landscape & Hardscape Services
At Lawn Masters, we offer a wide range of landscape and hardscape services, including:
We tailor our services to meet your unique needs, ensuring we deliver results that exceed your expectations.
Embark on a Journey with Lawn Masters
At Lawn Masters, we believe that your outdoor space should be a reflection of your personal style and a place where you can enjoy nature's beauty. A paver path is more than a practical addition—it's an opportunity to add a touch of elegance to your landscape.
If you're ready to enhance your property with a paver path or explore our other landscape and hardscape services, we're here to help. Please call us directly for the fastest service, or you can request a free estimate online. With Lawn Masters, you can embark on a beautiful journey right in your backyard, creating a landscape that is as enjoyable as it is beautiful.
---
Find the information you need? Then fill out our Free Estimate form and one of our team members will contact you to discuss your lawn care and landscaping needs. Still have questions? Feel free to Contact Us. We are always happy to answer any concerns you may have. For Fastest Service, give Lawn Masters a call at 636-230-0700.