Paver Patio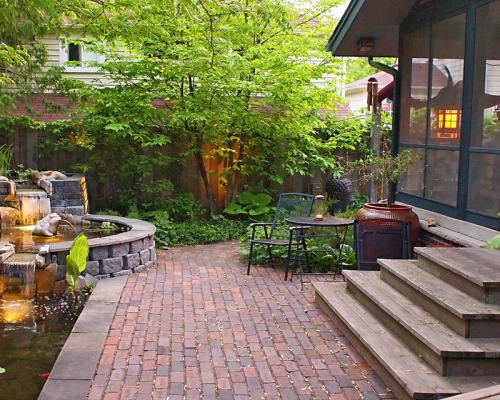 At Lawn Masters, we specialize in creating beautiful and functional Paver Patios that transform your outdoor living space. Our expert team of professionals has the skills and experience to design and install stunning Paver Patios tailored to your unique preferences and needs.
Enhance Your Outdoor Living Experience
A well-designed Paver Patio provides an ideal space for outdoor entertaining, relaxation, and enjoyment. Whether you envision a cozy seating area, an outdoor dining spot, or a spacious gathering space, we can bring your vision to life. Our team will work closely with you to understand your goals and create a Paver Patio that complements your home and suits your lifestyle.
Wide Range of Design Options
With a wide selection of pavers available, we offer endless design possibilities for your Paver Patio. Whether you prefer the classic charm of traditional brick pavers, the sleek look of modern concrete pavers, or the natural appeal of stone pavers, we have the perfect options to match your style and preferences.
Our skilled designers will collaborate with you to create a custom Paver Patio design that incorporates various colors, patterns, and textures to achieve the desired aesthetic. From simple and elegant to intricate and eye-catching, we can create a Paver Patio that becomes the centerpiece of your outdoor space.
Durability and Low Maintenance
Paver Patios are known for their durability and low maintenance requirements. Our team will ensure proper installation techniques and use high-quality materials to ensure that your Paver Patio withstands the test of time. Pavers are resistant to cracking, fading, and staining, making them an excellent long-term investment for your outdoor space.
Maintenance is a breeze with Paver Patios. Regular sweeping and occasional rinsing are usually sufficient to keep them looking pristine. If any pavers become damaged or stained over time, they can be easily replaced without disrupting the entire patio.
Related Landscape & Hardscape Services
Create Your Dream Outdoor Oasis
Ready to enhance your outdoor living space with a beautiful and functional Paver Patio? Contact Lawn Masters today to discuss your project requirements and schedule a consultation. Our team of professionals is ready to bring your vision to life and create a Paver Patio that exceeds your expectations.
Call us now for the fastest service and take the first step towards enjoying an outdoor space that's perfect for entertaining, relaxation, and making lasting memories.
---
Find the information you need? Then fill out our Free Estimate form and one of our team members will contact you to discuss your lawn care and landscaping needs. Still have questions? Feel free to Contact Us. We are always happy to answer any concerns you may have. For Fastest Service, give Lawn Masters a call at 636-230-0700.