Boulder Wall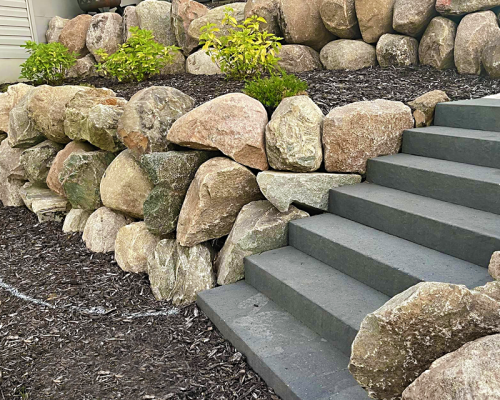 The magnificence of nature inspires awe and wonder, and integrating such grandeur into your landscape can create a truly striking visual statement. One such way to achieve this is through a well-designed boulder wall. At Lawn Masters, we craft exquisite boulder walls that blend the durability and ruggedness of boulders with the finesse of landscaping, turning your outdoor space into a natural masterpiece.
Enhancing Landscapes with Sturdy and Beautiful Boulder Walls
Crafting a boulder wall is a blend of artistry and precision, combining the rustic appeal of natural stones with the symmetry of a well-planned design. Our team at Lawn Masters has honed the craft of designing and constructing boulder walls that not only enhance your landscape aesthetically but also offer practical benefits.
We work with you from the initial concept to final installation, ensuring that the wall aligns with your landscape's overall design. Our experts meticulously choose each boulder for its size, shape, and color to match your aesthetic preferences and the design requirements.
Boulder walls can be a striking addition to a variety of landscapes, whether it's a sprawling backyard or a small garden. No matter the size of your outdoor space, we are dedicated to creating a boulder wall that suits your needs and complements your landscape.
The Aesthetic and Functional Appeal of a Boulder Wall
A well-placed boulder wall can transform your outdoor space. Aesthetically, it serves as a dramatic focal point, adding depth and texture to your landscape. The natural appearance of boulders allows them to blend seamlessly with almost any design style, providing a sense of permanence and organic beauty.
Functionally, boulder walls can serve various purposes. They can act as retaining walls, controlling soil erosion and managing water flow in your landscape. They can also delineate spaces, creating natural boundaries within your outdoor area. Moreover, a boulder wall is an investment in durability, standing robust and majestic through all weather conditions.
Our Array of Landscape & Hardscape Services
At Lawn Masters, we pride ourselves on offering comprehensive landscape and hardscape services to cater to your every outdoor need. Beyond boulder walls, our services include:
Whether you're seeking to add new features or upgrade your existing landscape, our dedicated team is committed to providing you with superior craftsmanship and personalized service.
Lawn Masters: Crafting Nature-Inspired Landscapes
Our mission at Lawn Masters is to create outdoor spaces that inspire and delight, providing you with a personal sanctuary where you can unwind and enjoy the beauty of nature. With a custom-designed boulder wall, we can add a touch of rugged elegance to your landscape, crafting a space that is as functional as it is beautiful.
If you're ready to elevate your landscape with a stunning boulder wall or are intrigued by our other landscape and hardscape services, we're eager to assist. Please call us directly for the fastest service, or you can request a free estimate online. Experience the transformative power of a boulder wall with Lawn Masters. We look forward to crafting an outdoor space that combines the majesty of nature with your personal style, creating a backyard paradise that is truly unique to your home.
---
Find the information you need? Then fill out our Free Estimate form and one of our team members will contact you to discuss your lawn care and landscaping needs. Still have questions? Feel free to Contact Us. We are always happy to answer any concerns you may have. For Fastest Service, give Lawn Masters a call at 636-230-0700.