Boulder Landscape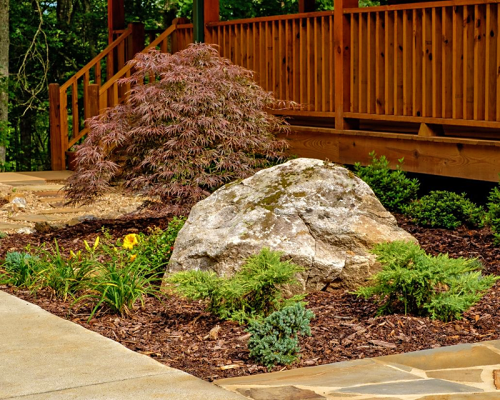 In the realm of landscaping, boulder landscape designs stand as a timeless testament to the beauty of nature. These robust, natural elements add visual interest, texture, and an undeniable sense of permanence to any outdoor setting. At Lawn Masters, we specialize in integrating boulders into your landscape in a way that complements your outdoor environment while creating a captivating focal point.
Create a Stunning Boulder Landscape with Lawn Masters
Incorporating boulders into a landscape requires not only a keen eye for aesthetics but also a deep understanding of landscape design principles. At Lawn Masters, we excel at both. Our team works with you to understand your vision and create a boulder landscape design that reflects your personal style and enhances your property's natural beauty.
Our extensive experience with boulder placement ensures your design will have a natural, organic feel. Whether it's creating a rock garden, building a boulder retaining wall, or integrating boulders into existing landscapes, we employ the highest quality materials and craftsmanship. We pay careful attention to the size, shape, and color of each boulder, ensuring it harmonizes with the rest of your landscape.
The Aesthetic and Functional Advantages of a Boulder Landscape
Incorporating boulders into your landscape can have significant aesthetic and functional benefits. Aesthetically, boulders can provide a dramatic focal point, creating depth and visual interest. They add a sense of permanence and solidity to your landscape, and their natural look can complement almost any style.
Functionally, boulders can help manage water runoff, prevent erosion, and provide natural boundaries. Their robustness makes them an excellent choice for long-lasting landscape features.
Comprehensive Landscape & Hardscape Services
In addition to creating beautiful boulder landscapes, Lawn Masters offers a wide variety of other landscape and hardscape services:
From designing and installing new features to revamping existing landscapes, we are committed to enhancing your outdoor living experience.
Bring Natural Majesty to Your Yard with Lawn Masters
At Lawn Masters, we aim to blend the art of landscaping with the beauty of nature. A boulder landscape can provide your property with a unique, natural elegance that stands the test of time. With careful planning and thoughtful design, we can transform your outdoor space into a stunning natural retreat.
If you're ready to bring the natural majesty of a boulder landscape to your yard or are interested in any of our other landscape and hardscape services, we're here to assist you. For immediate service, please call us directly, or you can request a free estimate online. Let Lawn Masters create an outdoor space that truly rocks!
---
Find the information you need? Then fill out our Free Estimate form and one of our team members will contact you to discuss your lawn care and landscaping needs. Still have questions? Feel free to Contact Us. We are always happy to answer any concerns you may have. For Fastest Service, give Lawn Masters a call at 636-230-0700.