Stone Mailbox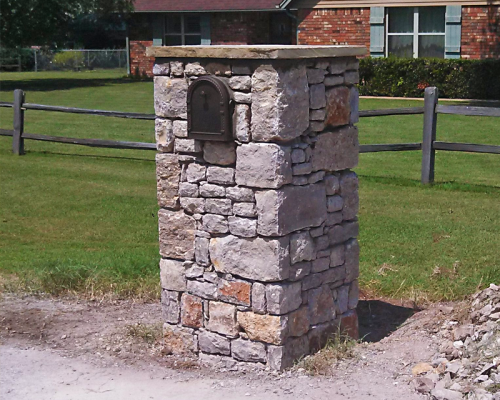 There's something nostalgically charming about a physical mailbox at the end of your driveway. However, a mailbox can be more than just a repository for letters and parcels—it can be a statement piece that adds to your home's curb appeal. A stone mailbox, for instance, exudes elegance, durability, and timeless beauty. Lawn Masters, known for its superior landscaping and hardscaping services, offers bespoke stone mailbox installations, adding an exquisite touch to your property.
Stone Mailboxes: Where Function Meets Aesthetics
A mailbox is perhaps the most frequently visited outdoor feature of your home. Why not make it remarkable? At Lawn Masters, we craft stone mailboxes that are more than just functional—they are striking additions to your landscape, echoing the style and aesthetics of your home.
Working closely with you, our experienced team ensures your stone mailbox not only serves its practical purpose but also complements your property's overall design. Whether you have a quaint cottage-style home or a sleek, modern architectural masterpiece, we create stone mailboxes that harmonize with your landscape's character and design.
Quality and Craftsmanship in Every Stone Mailbox
When it comes to crafting stone mailboxes, we never compromise on quality. The natural durability and resilience of stone make it a perfect material for outdoor features exposed to weather elements. Besides, stone has an organic charm that integrates seamlessly into any landscape, ageing gracefully over the years.
Our team selects the finest stones and employs meticulous craftsmanship in the construction of your stone mailbox. Every stone is placed with precision, ensuring structural integrity and an end product that is as sturdy as it is beautiful.
Stone Mailboxes and Beyond: Lawn Masters' Services
In addition to crafting stone mailboxes, Lawn Masters offers a wide range of other landscaping and hardscaping services:
Each service is customized to your needs and property, ensuring a unique, stunning outcome that reflects your personal style and enhances your outdoor space.
Make a Statement with Lawn Masters
If you're keen to elevate your landscape with a stone mailbox or explore other ways to enhance your outdoor space, Lawn Masters is at your service. We don't just create landscapes—we create outdoor experiences, weaving functionality, aesthetics, and personal preferences into a comprehensive design that transforms your property into your private paradise.
We invite you to contact us directly for the fastest service. If you prefer, you can also request a free estimate online. With Lawn Masters, every detail matters. Let us help you make a memorable statement with a landscape that is truly a reflection of you. Every journey with us is a path to creating an outdoor space that you will love and enjoy for years to come.
---
Find the information you need? Then fill out our Free Estimate form and one of our team members will contact you to discuss your lawn care and landscaping needs. Still have questions? Feel free to Contact Us. We are always happy to answer any concerns you may have. For Fastest Service, give Lawn Masters a call at 636-230-0700.