Flagstone Mailbox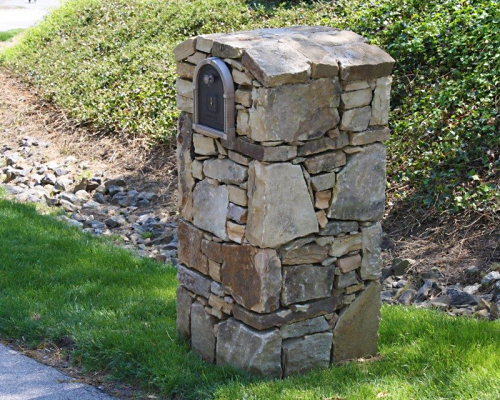 The entrance to your property is the first impression guests have of your home. Why not make it a memorable one? A flagstone mailbox from Lawn Masters offers a unique, appealing addition to your landscape, blending functionality and style in a design that stands out. These handcrafted, durable mailboxes are more than just practical—they're a testament to quality craftsmanship and a nod to your exceptional taste.
A Flagstone Mailbox – An Artistic Statement
Creating a flagstone mailbox requires a keen eye for detail, an understanding of structural integrity, and a masterful touch. Our team of expert craftsmen at Lawn Masters collaborates with you to design and construct a flagstone mailbox that reflects your style and enhances your property's overall aesthetic.
We carefully select each flagstone for its color, texture, and size, ensuring that the final product not only fulfills its practical purpose but also serves as a striking feature in your landscape. The rugged beauty of flagstone gives the mailbox a natural, rustic appeal that blends seamlessly with your outdoor setting.
The Charm and Durability of a Flagstone Mailbox
A flagstone mailbox offers numerous benefits. Firstly, it's a sturdy, long-lasting addition to your property. Unlike traditional mailboxes, a flagstone mailbox stands up well to weather and wear, ensuring it remains an attractive feature of your landscape for years to come.
Additionally, the unique look of a flagstone mailbox adds charm and individuality to your property. It provides a sense of sophistication and can be a focal point that draws the eye and complements your landscape design.
Your One-Stop Shop for Landscape & Hardscape Services
Lawn Masters offers a comprehensive range of landscape and hardscape services:
Whether you're seeking a simple addition or a complete landscape overhaul, our dedicated team is ready to assist.
Elevate Your Entrance with Lawn Masters
At Lawn Masters, we strive to create outdoor spaces that are as beautiful as they are functional. A flagstone mailbox offers an opportunity to enhance your landscape while adding a practical feature that stands the test of time.
If you're ready to add a touch of elegance to your property with a flagstone mailbox or explore our other landscape and hardscape services, we're here to help. Please call us directly for the fastest service, or request a free estimate online. Let Lawn Masters elevate your entrance and transform your property into a stunning showcase of craftsmanship and style.
---
Find the information you need? Then fill out our Free Estimate form and one of our team members will contact you to discuss your lawn care and landscaping needs. Still have questions? Feel free to Contact Us. We are always happy to answer any concerns you may have. For Fastest Service, give Lawn Masters a call at 636-230-0700.