Outdoor Living Area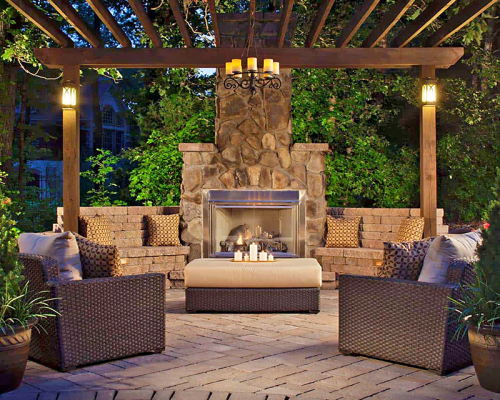 In our busy lives, having a tranquil space to relax and unwind is essential. An outdoor living area serves as an extension of your home, providing a peaceful retreat and a perfect setting for entertaining guests. At Lawn Masters, we're passionate about creating captivating outdoor living areas that harmoniously blend with your home's architecture and the natural surroundings.
Transform Your Backyard into a Luxurious Outdoor Living Area
Lawn Masters understands that a well-designed outdoor living area is a perfect balance of functionality, comfort, and style. Our dedicated team takes the time to understand your lifestyle and preferences, allowing us to design an outdoor space tailored to your unique needs.
We select high-quality materials and employ superior craftsmanship to ensure your outdoor living area not only looks stunning but also withstands the test of time. Whether you envision a space for quiet reflection, family gatherings, or lavish outdoor parties, we will bring your dream outdoor living area to life.
Experience the Benefits of an Outdoor Living Area
A beautifully designed outdoor living area has numerous benefits. It extends your usable living space, giving you more room to enjoy the outdoors without leaving the comforts of your home. It also provides an ideal setting for social gatherings and family leisure time. An outdoor living area can significantly enhance the aesthetic appeal and value of your home, making it a worthwhile investment.
Comprehensive Landscape & Hardscape Services
In addition to creating striking outdoor living areas, Lawn Masters offers a broad range of other landscape and hardscape services:
Whether you're looking to add a single feature or redesign your entire backyard, we are committed to providing superior services that enhance the beauty and functionality of your outdoor space.
Craft Your Ideal Outdoor Retreat with Lawn Masters
At Lawn Masters, our goal is to transform your backyard into a personal sanctuary where you can escape the indoors and immerse yourself in nature. With a custom-designed outdoor living area, you can enjoy the tranquility of the outdoors in comfort and style.
If you're ready to elevate your backyard with a sophisticated outdoor living area or if you're interested in our other landscape and hardscape services, we're here to assist you. For immediate service, please call us directly, or you can request a free estimate online. Allow Lawn Masters to craft your outdoor retreat, where everyday feels like a mini vacation.
---
Find the information you need? Then fill out our Free Estimate form and one of our team members will contact you to discuss your lawn care and landscaping needs. Still have questions? Feel free to Contact Us. We are always happy to answer any concerns you may have. For Fastest Service, give Lawn Masters a call at 636-230-0700.