Flagstone Patio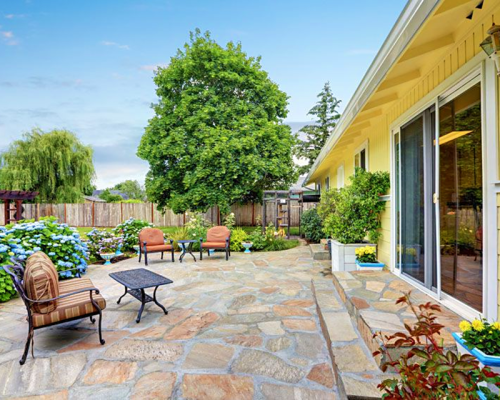 At Lawn Masters, we specialize in creating stunning Flagstone Patios that add beauty and elegance to your outdoor living space. Our expert team of professionals has the skills and expertise to design and install custom Flagstone Patios that perfectly suit your style and preferences.
Enhance Your Outdoor Living Space
A Flagstone Patio is a perfect way to enhance your outdoor living space. Whether you want a cozy area for relaxation or a spacious entertainment space for gatherings, our Flagstone Patios provide a versatile and inviting setting for various outdoor activities.
Custom Designs for Unique Spaces
We understand that every outdoor space is unique, and we take pride in offering customized Flagstone Patio designs tailored to your specific needs. Our experienced designers will collaborate closely with you to create a Flagstone Patio that reflects your personal style and complements the existing elements of your outdoor area.
From selecting the perfect flagstones to designing the layout and patterns, we pay meticulous attention to detail to ensure a seamless and visually appealing Flagstone Patio that harmonizes with your overall landscape design.
Beauty and Durability
Flagstone is known for its natural beauty and durability, making it an excellent choice for outdoor patio surfaces. Our team carefully selects high-quality flagstones known for their unique colors, textures, and patterns to create a visually striking patio that stands the test of time.
With proper installation techniques and craftsmanship, we ensure that your Flagstone Patio is not only beautiful but also resilient and long-lasting. The natural characteristics of flagstone, such as its resistance to temperature fluctuations and slip-resistant surface, make it a practical and functional choice for your outdoor living space.
Related Landscape & Hardscape Services
Turn Your Backyard into an Outdoor Haven
Ready to transform your outdoor space with a stunning Flagstone Patio? Contact Lawn Masters today to discuss your project requirements and schedule a consultation. Our dedicated team is here to assist you in creating a Flagstone Patio that enhances the beauty and functionality of your outdoor living area.
Request a free estimate or call us for the fastest service. Let Lawn Masters bring your vision to life with a custom-designed Flagstone Patio that will elevate your outdoor living experience.
---
Find the information you need? Then fill out our Free Estimate form and one of our team members will contact you to discuss your lawn care and landscaping needs. Still have questions? Feel free to Contact Us. We are always happy to answer any concerns you may have. For Fastest Service, give Lawn Masters a call at 636-230-0700.