Outdoor Fireplace Installation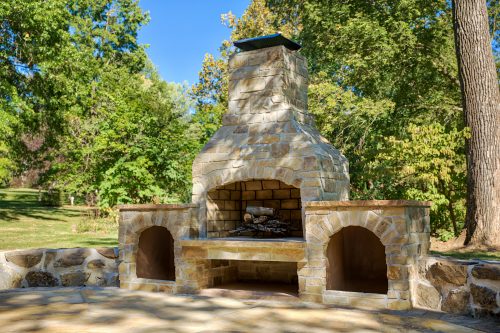 Basking in the warm, cozy glow of an outdoor fireplace is an unforgettable experience. Imagine ending your day under the stars with your family, enjoying the mesmerizing crackle and pop of the fire. Or picture inviting friends over for a fun-filled evening barbecue, the flames of your fireplace creating the perfect setting. Lawn Masters can make these experiences a reality by providing top-notch outdoor fireplace installations that not only enhance the beauty of your outdoor space but also increase the overall value of your property.
Crafting Your Ideal Outdoor Fireplace
At Lawn Masters, we believe that an outdoor fireplace should be more than just a source of warmth. It should be a striking centerpiece that defines your outdoor living area, encouraging conversation, and making your backyard truly inviting. From rustic to modern designs, we offer an array of choices that will reflect your unique taste and style.
We design outdoor fireplaces with the utmost attention to detail, considering factors such as positioning for optimum heat distribution, material selection for durability and aesthetic appeal, and safety precautions. With us, your outdoor fireplace will not only be a source of pleasure but also a long-term investment enhancing your home's appeal.
Related Landscape & Hardscape Services
In addition to crafting stunning outdoor fireplaces, Lawn Masters offers a range of other landscape and hardscape services, including:
We take pride in delivering comprehensive outdoor solutions tailored to your needs. Whether you want to create a cozy corner with an outdoor fireplace or plan an extensive landscape renovation, our team has the experience and skills to bring your vision to life.
Outdoor Fireplace Installation and Maintenance
Once your outdoor fireplace is in place, it's essential to maintain it properly to extend its lifespan and keep it looking its best. Our team at Lawn Masters provides expert maintenance services, from regular cleanings to necessary repairs. We'll ensure your outdoor fireplace remains an enjoyable and safe feature of your backyard for years to come.
Ready to Ignite the Spark?
There's nothing quite like the allure of an outdoor fireplace to bring warmth and ambiance to your outdoor space. With Lawn Masters, you'll receive expert service and guidance every step of the way, ensuring that your outdoor fireplace project exceeds your expectations.
If you're ready to create the outdoor fireplace of your dreams, or if you're interested in any of our other landscape and hardscape services, don't hesitate to reach out. Request a free estimate or call us for the fastest service. We're here to help transform your backyard into a beautiful and functional outdoor living space that you and your family will love. Let us make your backyard the destination spot for relaxation and entertainment.
---
Find the information you need? Then fill out our Free Estimate form and one of our team members will contact you to discuss your lawn care and landscaping needs. Still have questions? Feel free to Contact Us. We are always happy to answer any concerns you may have. For Fastest Service, give Lawn Masters a call at 636-230-0700.